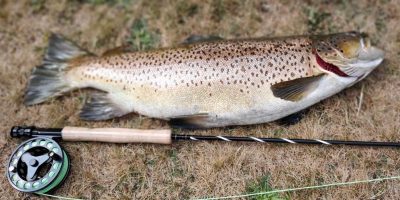 A few years ago, New Zealand rod manufacturer Composite Developments (CD) won an international award for their XLS rod. I have 2 of them and the weight 4 is my go to rod for small stream fishing. Consequently I was keen to test drive the new offering they have – the TRYCD.
The first thing I noted was the very different case the rod comes in. It is triangular with a stacking system for each of the seven sections. And that is not a mis-print, it does have seven sections plus an attachable fighting butt. It is in fact  3 rods in one and able to be easily transformed from a 5-6 weight to a 7-8 weight and then to a 10 foot rod (in either 5-6 or 7-8 weights). This makes this one system extremely versatile catering for light to heavy freshwater fishing and with the extension  making it suitable for czech nymphing. For anyone traveling light this one rod will cover virtually all conditions. And as the carrying case is very sturdy it will not be damaged in transit.
First impressions were good. The rod has a great finish is jet black. The 5-6 is moderately fast  and has a very crisp action. CD says they have spent years researching and testing the rod before releasing it and it certainly feels like a quality rod for serious anglers. CD have added some design features such as the white spiral on the base section and a pure white 1 foot extension to convert it from a 9 foot length to the 10 foot. The cork handle is one of the best I have seen on a rod for a long time being obviously of a very high grade. In fact all aspects of the rod are of a good standard expected on quality rods.
So the test. I started with the 9 foot 5-6 weight version. I found that the rod handled my weight 6 Rio Gold line far better than the 5 weight line. It loaded well and there was no "shudder" when it sent the line out. It was crisp and felt well balanced. On  a stream mouth on Lake Taupo the first night I trialed the rod it handled a number of large brown trout well and felt it would also be able to take on a good sized kahawai or even a kingfish. In fact after one night I found myself loving the smooth action and the way it handled all I tried. It was also good for nymph fishing through some of the Tongariro Pools and could cast a cicada pattern well.
The extension does change the dynamic of the rod. It felt heavier but still cast well. I am not sure the extra foot added much to distance but it worked well when Czech nymphing. If I were to go Czech nymphing from home however I would prefer to use my 10 foot CD Silver Flies rod but when traveling having the options the TRYCD offers in one easily transported package would be great.
The 7-8 weight option also proved to be a revelation. When the need arises to cast a heavy "bomb" the rod proves that is well and truly up to the task. Again I found an 8 weight line worked better than the 7 weight.
I do have a couple of reservations about the system however. Firstly I found the carry case awkward to use and as it closes with a magnetic catch I found that it tended to come undone while in the boot of my car. The triangular shape is great as it does not roll around when cornering but the foam holders where the pieces are stacked did not work well at all. Personally I would prefer it came in a bag which then fitted into the case. And there needs to be a sturdier system of closing the case – the magnetic strips are not strong enough.
Secondly, this is a very classy piece of equipment but the white extension piece spoils the look. A minor item but personally I have aversion  to anything but very muted colours on a rod and a shiny white section is anything but muted.
The price is where this rod stands out. I went fishing with 3 other angler and asked them to trial it and then say what they thought it would retail for. Each of them picked it would be around the $NZ 1000 mark. And this was before they found that it was easily converted to a 7-8 rod and could be extended to 10 foot. The RRP for this rod package is $NZ779 or under US$500.
Would I recommend the TRYCD? Most definitely. From the beginning I found its crisp action and its line speed and power suited the fishing I was doing really well. If travelling anywhere, especially by plane, having effectively 3 rods in one package very compelling. The fact that this superbly designed system did not  compromise anything in performance made it a great option to have.
So in conclusion, I believe that CD have once again proved their  rod design and production skills to be up there with many top rods. The fact that it is mid priced makes it a great buy for anyone looking for value for their dollar. And should you wish you can read more and purchase online at TRYCD.